Ole Miss' Matt Corral explains what he has done to become a potential first-round pick in the 2022 NFL Draft
Written by Josh Edwards on January 13, 2022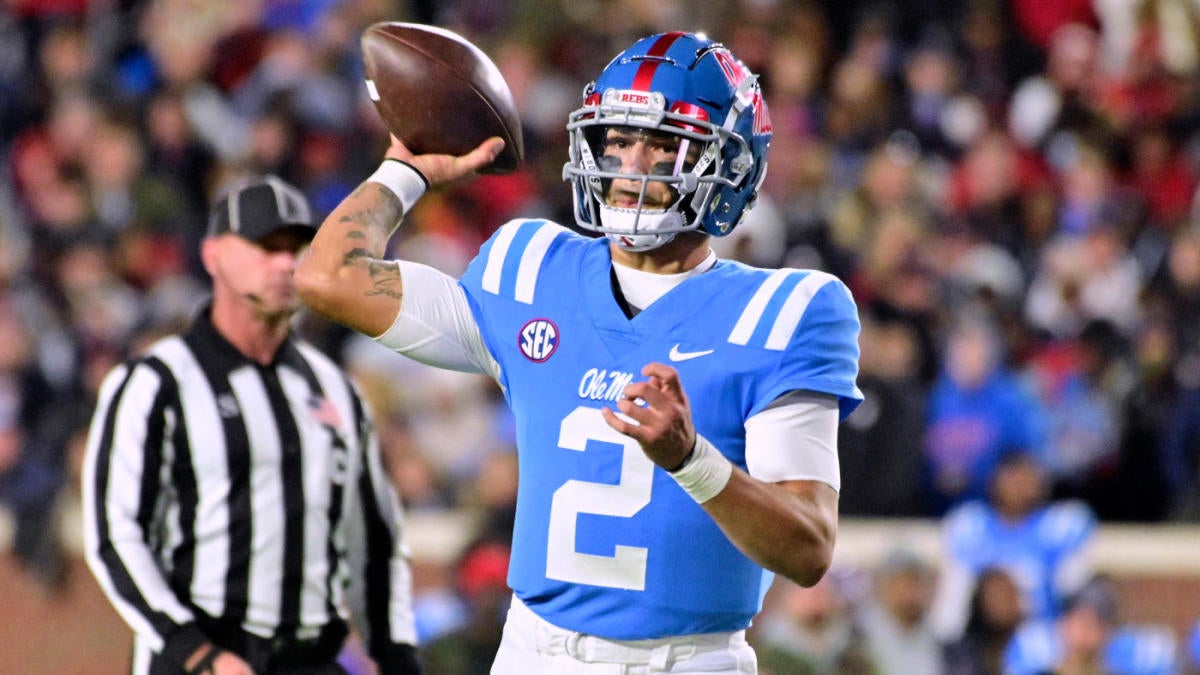 Ole Miss quarterback Matt Corral took a big leap from last season to the present. The improvement shown has been enough to insert him into the conversation to become the first quarterback taken in April's NFL Draft. 
Corral joined CBSSports' Pick Six podcast to discuss a variety of topics. The California native is in Malibu getting ready to begin training for the 2022 NFL Draft. He noted that after suffering a non-serious injury in the Sugar Bowl, he was back on his feet in a week and ready to continue his journey.
"It has been great. It is not as hectic as I thought it would be. … It is exciting definitely because it is a new chapter in my life and I am anxious to get it started," he said.
The junior from Long Beach Poly reduced his interceptions from 14 in 2020 to just five this season. He credits that growth to understanding what defenses were showing him. 
"It was just understanding the Drop 8 defensive scheme (three down defensive linemen and eight others drop into coverage). I really did not understand it at all. I had never seen it until Arkansas did it to me and then after Arkansas did it to me, everybody was just trying to get into the Drop 8," he explained. 
"You have 11 sets of eyes watching you so you can not look a defender off, you can't window shop; that was my issue. I was trying to find holes in the defense in the hook zone. I couldn't do it because I was trying to look it off. When I was looking this guy off, this guy was following my eyes and the next guy over would pick me off. It was frustrating because I just did not understand it. It was finding the right concepts to play against it and then going out there and executing and not overthinking it because it is not that complicated."
Ole Miss offensive coordinator Jeff Lebby, who has since departed for Oklahoma, took his quarterbacks through a program dubbed 'Flight School,' which was designed to dig deeper into coverages and their purpose.
"It is a lot (working with head coach Lane Kiffin and Lebby) but it is going to pay off on the next level just because it is very complex. It was Cover 1, Cover 2, all of the basic coverages but within those coverages it gets a little more complex based on the formation and the checks into those coverages. It made it easy because it translated from the concepts that we ran and we saw them in those coverages. (Lebby) would have cut-ups with these plays and these coverages. Right after these coverages, we watched the cut-ups with these plays. Seeing that mesh together, it just made a lot of sense," he continued.
"From Year 1 to Year 2, it made all the difference in the world because I knew where the ball was going 70% of the time before it was snapped. You can ask any quarterback, that is going to make all the difference in the world."
NFL teams may have questions about the style of offense the Rebels run and how it aided Corral's transition to the next level. He did note that it is more complex than it outwardly appears. 
"A lot of people see it as an RPO offense, which it is, but our passing game is pretty complex. Based on the coverage, my progression changes. A lot of offenses don't do that," he shared.
"As far as the concepts that we had from the first year with Kiffin and Lebby to the second year, nothing changed concept-wise. It was just that the progressions got more complex. Say it was Cover 3, my progression would go 3-2-1 instead of 1-2-3. It would be a shot play, which means we have a post, an over and a flat route in some sort of way. Honestly, it would just be changing because I would expect what would be open and that made all the difference in the world because I knew where I am going with the ball before it is even snapped." 
Competing in the SEC brings a new challenge each week, Corral spotlighted Alabama edge rusher Will Anderson and Texas A&M's DeMarvin Leal as players that most significantly impacted the offensive game plan.
"That guy was a monster," he said, referencing Leal. "A lot of these games where they have players like that, we will call quick throws to get the ball out of my hand really quick because I didn't have time to get the shot plays up. I think we did a good job of scheming against them and our coaches did a good job of scheming against them but, ultimately, they made their plays in those games for sure."
When the dust settles, the junior feels he did enough to be the first quarterback selected in the 2022 NFL Draft.
"Absolutely. I think where I separate myself is my work ethic and my ability to dissect the X's and O's part of the game. Lebby and Kiffin did a great job of that. I have talked to a lot of guys that have been in the same position. I am not necessarily content with where I am but I am in a good spot," he finished.
Liberty's Malik Willis, North Carolina's Sam Howell, Pittsburgh's Kenny Pickett and Cincinnati's Desmond Ridder are the other prospects often mentioned as possible first-round picks.   
During his final season in Oxford, Corral, who has partnered with Optimum Nutrition to promote their new energy drink, completed 67.9% of his passes for 3,349 yards, 20 touchdowns and the aforementioned five interceptions. If picked in the first round, he would be the fifth Rebel since 2015 and the first since Evan Engram went No. 23 overall in 2017. Corral would be the third Ole Miss quarterback taken in the first round since 1970, joining Eli and Archie Manning.
The post Ole Miss' Matt Corral explains what he has done to become a potential first-round pick in the 2022 NFL Draft first appeared on CBS Sports.
---
Reader's opinions
---