Wishbone Ash / Argus 50th anniversary edition – SuperDeluxeEdition
Written by on June 1, 2023
Wishbone Ash's 1972 album Argus was recently reissued as a 50th anniversary box set.
Featuring a heady blend of prog rock, folk and hard rock, Argus is band's biggest selling album, and tracks include 'Blowin' Free', 'The King Will Come', 'Time Was', 'Warrior' and 'Throw Down The Sword'.
The seven-disc box set features the following content:
3 CDs: Martin Turner's Argus remaster, Live at The Alexandra Palace 1973 & Memphis 1972. Also features four previously unreleased early version demos.
2 vinyl LPs: Original Argus replica, remastered for this release + Argus Live (selected recordings from Alexandra Palace & Memphis). 
DVD: French & Swiss TV footage, Live from the Rainbow 1973 & RTS Broadcast from 1974.
7" Single of 'Blowin' Free'.
The package comes with a 48-page book with rare photographs and extensive liner notes with contributions from Andy Powell, Martin Turner & Steve Upton.
This 50th anniversary box set of Argus is out now via Madfish.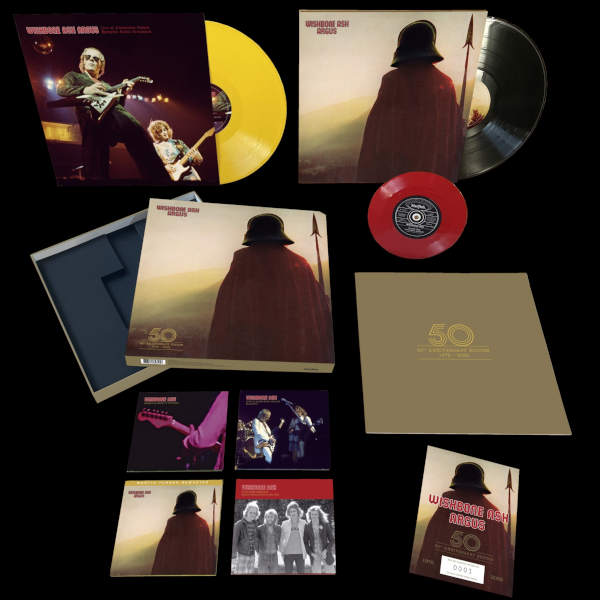 Tracklisting
Vinyl LP: Argus

Side A

Time Was (9:43)
Sometime World (6:55)
Blowin` Free (5:18)

Side B

The King Will Come (7:05)
Leaf And Stream (3:55)
Warrior (5:53)
Throw Down The Sword (5:55)

CD: Argus

Time Was (9:43)
Sometime World (6:55)
Blowin` Free (5:18)
The King Will Come (7:05)
Leaf And Stream (3:55)
Warrior (5:53)
Throw Down The Sword (5:55)

Bonus tracks

Time Was Demo (10:06)
The King Will Come Demo (6:35)
Warrior Demo (5:32)
Throw Down The Sword Demo (4:35)

7″ single

No Easy Road 1972 Single Version (3:35)
Blowin' Free 1972 Single Version (3:55)

Vinyl LP: Argus Live

Side A

Blowin` Free (Live at Alexandra Palace 22.12.73) 5:47
Sometime World (Live at Alexandra Palace 22.12.73) 8:32

Side B

Time Was (Memphis Radio Broadcast 21.08.1972) 6:54
Warrior (Memphis Radio Broadcast 21.08.1972) 5:47
Blowin` Free (Memphis Radio Broadcast 21.08.1972) 5:25

CD: Live at Alexandra Palace

Blowin` Free (Live at Alexandra Palace 22.12.73) 5:47
Jail Bait (Live at Alexandra Palace 22.12.73) 7:28
No Easy Road (Live at Alexandra Palace 22.12.73) 4:53
Baby What You Want Me To Do (Live at Alexandra Palace 22.12.73) 6:26
Sometime World (Live at Alexandra Palace) 22.12.73 8:32
The Pilgrim (Live at Alexandra Palace 22.12.73) 11:36
Where Were You Tomorrow (Live at Alexandra Palace 22.12.73) 10:58
End Announcement (Live at Alexandra Palace 22.12.73) 1:33

CD: Memphis 1972

Time Was (Memphis Radio Broadcast 21.08.1972) 6:54
Blowin` Free (Memphis Radio Broadcast 21.08.1972) 5:25
Jail Bait (Memphis Radio Broadcast 21.08.1972) 4:56
Warrior (Memphis Radio Broadcast 21.08.1972) 5:47
The Pilgrim (Memphis Radio Broadcast 21.08.1972) 10:08
Phoenix (Memphis Radio Broadcast 21.08.1972) 17:01
Blind Eye (Memphis Radio Broadcast 21.08.1972) 4:17

DVD: French and Swiss TV Footage

Blowin` Free – Introduction French TV INA 24.2.73 – Live from the Rainbow 00:03:44
Backstage Interview 1 French TV INA 24.2.73 – Live from the Rainbow 00:02:38
The Pilgrim French TV INA 24.2.73 – Live from the Rainbow 00:09:05
Backstage Interview 2 French TV INA 24.2.73 – Live from the Rainbow 00:01:43
End of Phoenix French TV INA 24.2.73 – Live from the Rainbow 00:06:25
Jail Bait – Intro btb (RTS) Swiss 5.1.1974 00:01:18
Warrior btb (RTS) Swiss 5.1.1974 00:05:32
Blowin` Free btb (RTS) Swiss 5.1.1974 00:04:57
Snippet of Phoenix – Outro btb (RTS) Swiss 5.1.1974 00:03:17
watch scream 6 full movie free
watch scream 6 full movie free
---