Russia atrocities bring Nato members closer
Written by ABC AUDIO on November 27, 2022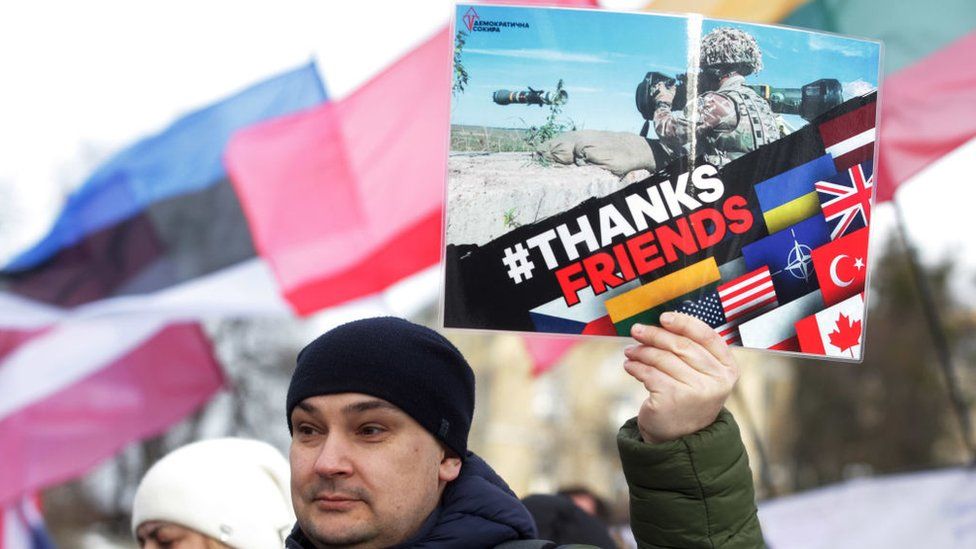 Nato is feeling pretty pleased with itself right now.
Of course when you chat to officials in the soulless, concrete monolith that is Nato HQ here in Brussels, no-one expresses pleasure at the current situation in Europe after Russia's invasion of Ukraine. But they are quick to tell you how surprised, amazed or encouraged they are that the alliance is so "very" united.
And that both transatlantic and EU-Nato co-operation on sanctions against Russia, for example, have been so smooth. This is far from always the case.
"If you'd asked me back in February, or even six months ago, there's no way I'd have predicted the unity we have in our ranks now," a US official in Brussels told me.
So what's the glue keeping Western allies together?
Just think of the countless headlines we've all read predicting the splintering of Western support.
"Ukraine fatigue" was heralded this summer, five months into the war.
Then the cost of living crisis and painfully high energy prices linked to Russia's invasion were tipped to reduce Western leaders' support for Kyiv.
With Russia having the largest stockpile of nuclear warheads in the world, it was assumed some countries would prefer to step away from Ukraine for fear of drastic action by Moscow.
But that was not the case.
"The strong resolve to stand with Ukraine that we see now has been helped by atrocities by Russia – targeting civilians and civilian infrastructure," a leading Nato official told me on condition of anonymity. Like many of the officials I spoke to, they would prefer to be able to speak more freely.
"A daily diet of war crimes, those images hitting our screens day after day. That makes it hard to turn away."
Russia has repeatedly denied committing war crimes.
Western officials say the Kremlin's tactics have badly misfired.
"[Moscow] has tried to blackmail or manipulate nations supporting Ukraine with a 'we can make you suffer too' message," an official from a large Nato country told me.
"But it's royally backfired. Just like Russia has failed to wear down Ukrainian resolve with the daily war crimes it's imposing on the country."
Vladimir Putin's blaming of Nato's expansion eastwards for the current conflict has also turned into an own goal.
Sweden and Russia's neighbour Finland have opted to join the alliance, after decades preferring non-alignment, as a direct result of the Kremlin's actions.
Many officials also linked the unexpected advances of Ukraine's armed forces against Russia with strong Western support. Or, put more cynically, with making it politically far harder for allies to reduce that support.
Nato countries are juggling two forms of backing for Ukraine: the practical and the political.
The practical is focused on how to structure industries to be able to keep manufacturing and providing military support for Ukraine.
Nato officials say aid to Ukraine is more deliberate and long-term now than in the panicked first weeks following Russia's invasion.
But the alliance draws a deliberate line between military support it provides for its own members and Ukraine, where aid is decided and provided by the national governments of Nato members, not by the alliance as a whole.
This "gossamer-thin" distinction, as one Brussels-based diplomat put it to me, is not recognised by the Kremlin. But it is important to Nato as it desperately tries to avoid coming into a direct, and therefore escalating, conflict with nuclear power Russia.
So, Nato has considerably boosted defence capabilities for its "Eastern flank" of member countries geographically close to Russia, but the alliance says it has no organised mission inside Ukraine. It's not training Ukrainian soldiers or providing Kyiv with military support as an organisation.
The political aspect of sustaining support for Ukraine is something the Nato member countries have to manage with their parliament and population back home.
Analysts say the cost of helping Ukraine is nothing compared with what the US or European countries like France or the UK spent in Iraq and Afghanistan, but it's worth looking at recent opinion polls in Germany, France and Italy.
They suggest waning public support (just 28% in France and Germany and 26% in Italy, according to a study by intelligence group Morning Consult) for ongoing sanctions against Russia that have a direct impact on the cost of living.
Yet the leaders of those countries appear unwavering for now in their support for Ukraine. Arguably more steadfast now in fact than earlier in the conflict.
What a contrast to the second Gulf War. Then Berlin and Paris didn't hesitate to opt out, prompted by strong anti-war sentiment at home.
So what's going on now?
Simple: Russia's assault on Ukraine is Europe's 9/11, says Camille Grand, until recently assistant secretary general for defence investment at Nato, and now at the European Council for Foreign Relations.
"[Russia's invasion] has been a massive wake-up call on defence and security," he told me. "A pivotal, game-changing moment, bringing conflict directly to our borders."
Whatever the outcome in Ukraine itself, he predicts the situation in Europe will remain complex – geopolitically and in terms of security – for years to come.
A US official in Brussels goes a step further: "What Russia did caused a paradigm shift for security calculations across the globe."
https://zencastr.com/z/TXt47nWM
https://zencastr.com/z/tuypetn-
https://zencastr.com/z/aDH6UiPq
https://zencastr.com/z/NBP55sQ8
https://zencastr.com/z/ptfkkPSj
https://zencastr.com/z/yoKmVIPw
https://zencastr.com/z/Vgb1bSri
https://zencastr.com/z/wE7b7O16
https://zencastr.com/z/hFbcVAvf
https://zencastr.com/z/7Bo01rPR
https://zencastr.com/z/0TQVHICt
https://zencastr.com/z/3SJd5k5u
https://zencastr.com/z/17GwPdbm
https://zencastr.com/z/pPQLLutV
https://zencastr.com/z/6cRhMTcB
https://zencastr.com/z/kZ0blZ05
https://zencastr.com/z/y0h0qdgR
https://zencastr.com/z/7juYi4su
https://zencastr.com/z/QMqNHxu7
https://zencastr.com/z/wp-yEeVz
https://zencastr.com/z/3rljqaaF
https://zencastr.com/z/XGnlidde
https://zencastr.com/z/odEUn-EJ
https://zencastr.com/z/wNroovfW
https://zencastr.com/z/N_47MDEu
https://zencastr.com/z/0ZJG29Rm
https://zencastr.com/z/1a2I82x0
https://zencastr.com/z/mioEHhpt
https://zencastr.com/z/coQMRoB7
https://zencastr.com/z/Ty_uS8Lo
It wasn't just Nato recognising this, he said. Other democracies like Japan, New Zealand, South Korea and Australia see Vladimir Putin's actions as a serious threat to the democratic world order. There's a sense that if he is allowed to "get away with it" in Ukraine, then no-one is safe.
---