Captain America Gets a New Reboot From JMS and Saiz
Written by on June 4, 2023
Captain America is getting a new reboot courtesy of writer J. Michael Straczynski and artist Jesús Saiz.
Announced exclusively by io9, Straczynski and Saiz are helming a new Captain America series that begins in Sept. 2023. Marvel teased of the new series, "Decades ago, Steve Rogers changed the world forever. Now powerful and insidious forces are assembling to ensure he never does it again. Past, present and future collide as the man out of time reckons with an existential threat determined to set the world on a darker path at any cost…"
RELATED: Why Marvel's Two Captain Americas Now Hate Each Other
"One thing about Steve Rogers that's never really been addressed is the period between when his parents died, and when he became Captain America," Straczynski said of the new series. "We're talking about a sickly, skinny 17 year old kid, trying to survive on his own for because he's stubborn and independent, on the street for several years, hustling for any gig he can get, even if it's bigger than he is, trying to afford food and a place to stay. So we will counterpoint a present-tense story in which Captain America faces off against a new villain of supernatural origin, with a story about his younger self, with both stories tightly interwoven.
"Because there's one other, key aspect to that period that we will be addressing. The years young Steve was on his own were the same years during which the American Bund – for all intents and purposes the Nazi Party in America – was growing very powerful in real world New York, blocks from where he lived. They held public marches and rallies, harassed people, and spread hate, all part of an effort to get America on the side of the Nazis, a campaign that came to a head with the biggest Nazi rally on American soil in history, as tens of thousands of people, Nazis and Nazi sympathizers, crammed into Madison Square Garden to celebrate their dream of a thousand-year Reich."
RELATED: Did Iron Man Really Secretly Borrow Captain America's Shield for Years?
Captain America Celebrates a Milestone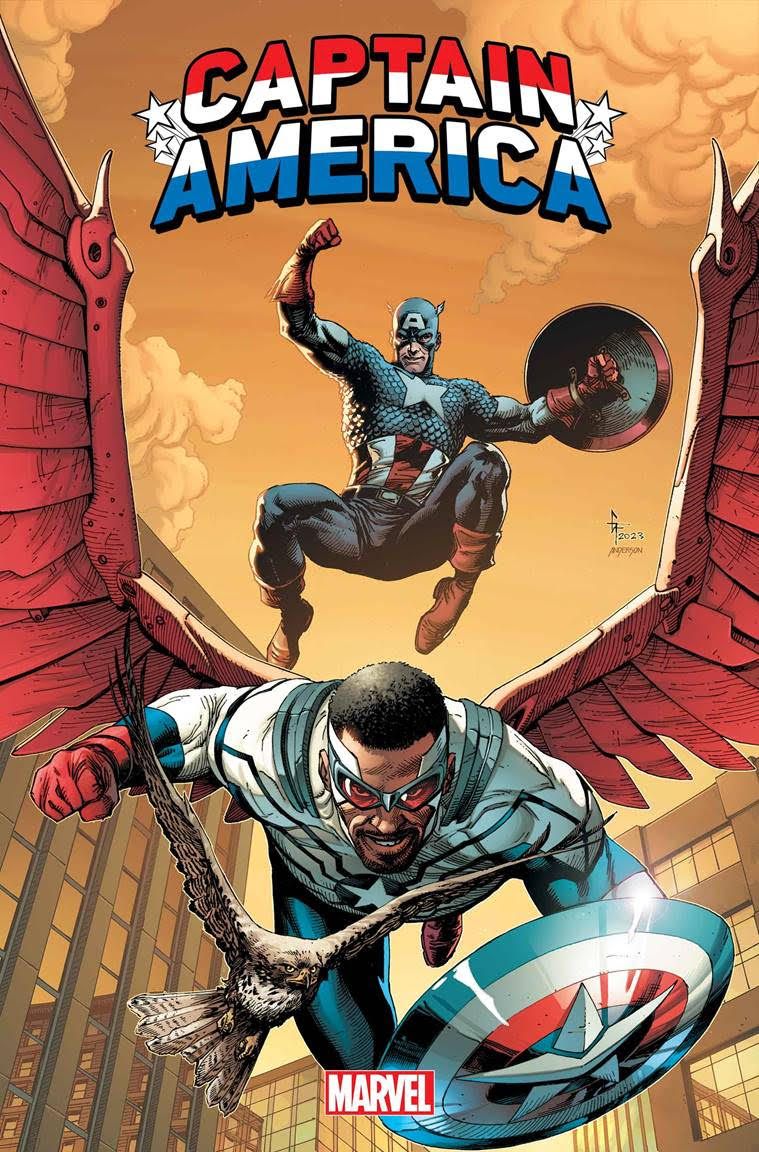 Prior to the new reboot, Marvel is releasing Captain America #750 on July 5, 2023, from writers Collin Kelly, Jackson Lanzing, Tochi Onyebuchi, J.M. DeMatteis, Gail Simone, Dan Jurgens, Stephanie Williams and Cody Ziglar and artists Carmen Carnero, R.B. Silva, Jurgens, Daniel Acuña, Rachael Stott, Marcus Williams and Sara Pichelli. The synopsis for the oversized issue reads, "THE CAPTAINS AMERICA MOURN THEIR FALLEN! After the harrowing events of CAPTAIN AMERICA: COLD WAR, the Captains America return home to mourn their fallen—and strive to honor the power of legacy. Plus: The secret origin of Sam Wilson's new shield revealed, and a bold new direction for Sharon Carter! In honor of 750 issues of CAPTAIN AMERICA, a team of fan-favorite guest writers join forces with superstar artists to spin timeless tales celebrating the epic history of the star-spangled hero! Don't miss this jam-packed oversized issue!"
Captain America #1 features cover art by Saiz. The issue releases on Sept. 20, 2023.
Source: io9, Marvel
watch avatar the way of water full movie
watch avatar the way of water full movie
watch avatar the way of water full movie
---